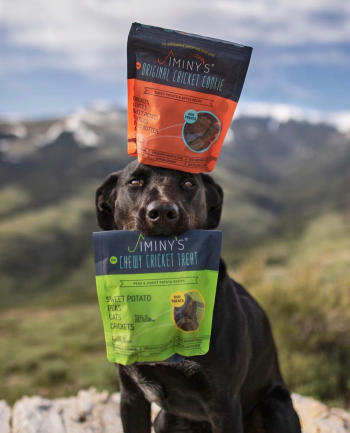 WHY CRICKETS?
Did you know that crickets are a nutty-flavored superfood with more essential nutrients per pound than chicken or beef? And they're hypoallergenic, humanely sourced, and better for the environment — using up less natural resources and emitting fewer greenhouse gases compared to other animal proteins.
WHERE ARE THE TREATS MADE?
All of the treats are proudly baked in the US.
HOW MUCH CRICKET PROTEIN IS IN THE PRODUCT?
Crickets make up 15-18% of the Original Cricket Cookie (dry ingredient measurement) depending on the flavor.
It is the first ingredient in our Original and Sweet Potato and Apple Recipes. Second ingredient in Peanut Butter and Blueberry.
Crickets make up approximately 10% of the soft and chewy treats.
HOW MANY CRICKETS ARE IN ONE TREAT?
There are approximately 5 crickets per biscuit and approximately 2 crickets per soft and chewy treat.
There are approximately 525 crickets in each bag of biscuits and about 150 per bag of soft & chewy.
DO YOU USE WHOLE CRICKETS?
Jiminy's purchases roasted ground crickets from suppliers based in the U.S. and Canada. The whole cricket is used, however it is roasted and ground before it is sent to us. We bake our products with what we call 'cricket protein powder'.
WHAT OTHER INGREDIENTS ARE USED?
We carefully select our ingredients to be delicious and provide benefit, for example:
Pumpkin – Aids in digestion + carotenoids, beta-carotene, alpha-carotene, fiber, zinc, iron, vitamin A, and potassium
Peanut Butter – Boosts Energy + protein, healthy fats, potassium, antioxidants, magnesium, and vitamin E. And, Dogs love it./li>
Flax Seeds – Provides Omega 3 fatty acids & high in antioxidants
Blueberries – High in Antioxidants & Vitamins C, E, A and B complex/li>
Sweet Potato – Balanced source of energy + fiber, vitamin C, beta carotene & manganese
Apple – Sweet flavor and provide calcium, vitamin K, vitamin C, and pectin
Lentils – Great source of protein, fiber, and iron and they're They are alkaline and do not cause gas for most dogs!
ARE PRESERVATIVES USED?
In order to ensure that the ingredients don't develop mold or become rancid we use two products: a natural mold inhibitor (Citric Acid, Buffered Distilled White Vinegar) which makes the PH of the product more acidic which in turn prevents mold from developing and natural antioxidants ((Canola Oil, Mixed Tocopherols, Rosemary Extract) which helps keep fats from oxidizing (going rancid).
WHAT IS WRONG WITH TRADITIONAL ANIMAL PROTEIN?
Traditional Animal Agriculture (for example: beef, pork, chicken) is brutal and the biggest contributor to Climate Change.
It's a bigger contributor to climate change than transportation and energy combined.
65% of nitrous oxide comes from animal agriculture – nitrous oxide has a global warming potential that is 296x greater than CO2 emissions.
Land Based Animal Agriculture is responsible for:
30% of global water consumption
45% of global land consumption
91% of Amazon Destruction
Leading cause of Ocean "Dead Zones" – nitrogen flooded areas
Leading cause of Habitat destruction
Leading cause of species extinction