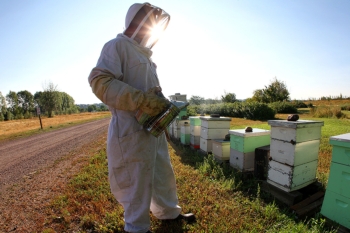 Quality Matters
As beekeepers and hemp farmers, we here at Colorado Hemp Honey place the highest of values on the integrity and purity of our products. There are some companies producing hemp products that do not value purity and potency like we do. At Colorado Hemp Honey, our hemp extracts are full spectrum and tested for purity a third time before it gets to you.
RAW HONEY INFUSIONS
We carefully blend pure and raw Rocky Mountain honey with full spectrum, cannabinoid rich hemp extract and organic essential oils to create a natural and delicious tasting superfood. As beekeepers, we know our source. Our proprietary blending process ensures you receive everything nature intended in our products. We make everything in small batches in our commercial kitchen located in Parker, Colorado. Our honey is not high pressure pasteurized or cut with syrup. It is full of natural goodness!
OUR HEMP
Hemp is healthy, nutritious, and stuffed with an incredible amount of health benefits. It is even considered to be one of the most nutritious plants in the world. At Frangiosa Farms, we grow it naturally and treat it delicately, enabling it to produce oil with an assortment of nutrients:
All 20 amino acids
B complex vitamins (niacin, riboflavin, and thiamine)
Beta carotene
Essential fatty acids (Omega 3 and Omega 6)
Flavonoids
Minerals (calcium, iron, magnesium, phosphorous, potassium, and zinc)
Protein
Terpenes
Vitamins (A, C and E)
Hemp contains countless vitamins and minerals; all of which exist in the perfect ratios, allowing the healthy bits to work together and maximize each other's benefits. At Frangiosa Farms, we emphasize the importance of the benefits. Therefore, we take a whole foods approach to our hemp-no hemp isolates with us!
Maintaining a whole foods approach with hemp allows us to produce a full spectrum extract that hosts an entire array of cannabinoids. Cannabinoids play an essential part in your Endocannabinoid System (ECS), which is responsible for many of your bodies internal systems and processes, including:
Digestion
Inflammatory response
Memory formation
Metabolism
Mood regulation
Reproduction
Our full spectrum hemp extract helps promote a well-functioning ECS that maintains an internal equilibrium and keeps things running as they should. For such a small plant, hemp oil provides an incredible amount of health benefits.